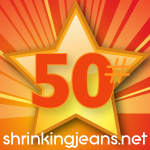 Today I weigh 149 pounds. Do you know what that means? This is the first time in ten years that my weight has been in the 140s. It also means that I have met my goal of losing 50 pounds, I've lost a grand total of 53 pounds! I know it sounds like a lot of weight because it certainly is. If you had asked in my younger years if I ever thought I'd be able to lose 50 pounds I would have said no - because I'd never thought I'd gain that much weight. And then, life happens. I think the magnitude of the weight loss is best seen in pictures
This is me the first week of December, a week after I started my journey to healthy living (I'd already lost 8 pounds in this picture).
And this is me today, wearing the same clothes that I had on in December. A size large yummie tummie and a size 16 pair of jeans.
And, and! Here I am today wearing my current size 6 jeans by Miracle Body (they say they make you look 10 pounds smaller) and a medium top by BCBG.
I am thankful that I have friends that love fashion.
Audrey and Vera had the Getting Gorgeous Event at BlogHer and I was given these jeans there. This is important to note because my size changes so frequently that it is difficult for me to shop and not feel like I am wasting money. I have a pair of pants I bought while at BlogHer that no longer fit! I don't see myself going smaller than a size 6 - the Miracle Body jeans are forgiving (love that spandex) and suck in the jiggly bits but I certainly need a wardrobe improvement. Luckily for me I have clothes coming from Haute Look (my top was only $19 originally $44) an online store that sells discounted designer clothing. I won a $100 giftcard from them at BlogHer!
Overall I am happy to celebrate this milestone. I still have my bikini that I plan on wearing to S
outh Beach in October and I will be sure to post those pictures too. In the meantime I am going to bask in my success, thank you for all of your wonderful support because really, none of this would have been possible without you.You've kept me accountable. You've cheered me on. You've cheered me up when I felt down. You called me beautiful even at my heaviest. You are golden!
THANK YOU, THANK YOU, THANK YOU!