And This Award Goes To...........
Me! Apparently, my blog Kicks Ass! I have been given this award twice (sorry for the overuse of exclamation marks, I am just excited)! I am ever so grateful that
Weith Kick
and
Cindi - Moomettesgram
decided to bestow this award upon me. Here it is: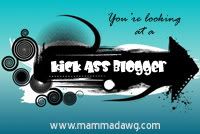 Isn't it lovely?
Now, it is my turn to acknowledge blogs that I think Kick Ass. Here are the rules (you knew there were rules didn't you?) from
Mamma Dawg
:
Kick Ass Award
Do you know any bloggers that kick ass?
Maybe they've got incredible, original content. Or they're overflowing with creativity. Is it someone that helps you become a better blogger? Or a bloggy friend you know you can count on? Or maybe it's someone who simply inspires you to be a better person... or someone else who sends you to the floor, laughing your ass off.
Whatever the reason may be, I'm sure you know at least a couple of bloggers that kick ass. Well... why not tell 'em so?
LOVE ON 'EM
* Choose 5 bloggers that you feel are "Kick Ass Bloggers"
* Let 'em know in your post or via email, twitter or blog comments that they've received an award
* Share the love and link back to both the person who awarded you and back to www.mammadawg.com
* Hop on back to the Kick Ass Blogger Club HQ to sign Mr. Linky then pass it on!
So here we go in no particular order:
Modern Momma Diana
– I am giving you this award because you are an awesome blog designer. Notice my navigation bar – my Baby Boy cake! Oh, and lest I forget, her blog designs are free people.

Ashley's Closet
– Ashley's blog makes me laugh on a daily basis and this award surely belongs on her shelf.
Musings of a Barefoot Foodie
– Brittany's blog is hilarious and she is always willing to help out fellow bloggers.
1StopMom
– She is the busiest, most supportive blogger I know. She not only has 4 children but she has four blogs to boot!
A Mom Two Boys
– Meghan deserves this award because she is author of
All Mediocre
– see my button on the right – a blog that acknowledges "the webs best blogs you just don't know it yet." Be sure to check it out you will find lots of great blogs there to read.
So there you have it, my first award. Pardon me, I am going to stare at for a little longer now. Talk to you later.