What is that sound?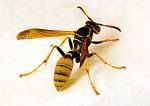 There are bugs in my walls. Not the type of situation where I need to call the
verminators
But there is something that buzzes periodically in the wall of my office (the sitting room in my Master Bedroom, so this is potentially a really serious problem). I called the exterminators that deal with wasp/bee infestations and they suggest that I try spraying in the air conditioning vents to see if anything happens. They didn't want to come out and charge me $200 if there were no wasps/bees/ etc. in my walls. I appreciate that. Saving money is always good.
The problem is that I haven't tried spraying yet. Which may be a good thing. Hypothetically speaking, what if there are wasps or bees or some other stinging insects in my walls? And when I spray said insects decide to come out of the vents. What do I do then? Run? Could I possible outrun pissed off stinging insects? I think not.
When I was 13 I tried to outrun hornets and lost the race, badly. Hornet stings all over my breasts were the prize for me in that race. Don't ask – let's just say that as a child I was very inquisitive and hornets were living in my air conditioning vent. I wanted to see what they would do when riled up. Never for the life of me will I understand why I felt the need to open the window…..
Anyhow, I do know that there is something in the walls. Sometimes when I am sitting at the computer typing away I hear buzzing. Loud buzzing, disconcerting buzzing and honestly I don't know what to do about it. I guess I can continue to sit here in denial and hope that it goes away. Perhaps once the summer is over these insects will die or take up residence elsewhere.
In the meantime, I will just hope and pray that whatever type of flying (possibly stinging) insects these are will not find their way out of the walls and into my office. Perhaps you can say a little prayer for me too!